Bergen Aquarium
Did you know that male penguins can 'adopt' eggs and become the world's best parents, that turtles can breathe through their butt, that the plastic we throw away each year becomes a patch in the ocean the size of an entire country, or that some spiders move using hydraulics? After a visit to the aquarium, you are sure to know a new thing or two. And you'll learn by using your whole body, not just your brain.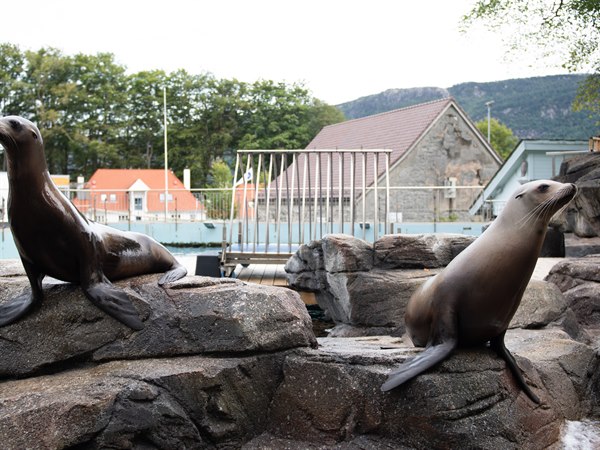 Naturally, you already learn important things at school, but there in your classroom it would be very rare to experience Kim the sea lion spraying water on you! Even though you risk getting a little wet, the close proximity to the animals at the aquarium is a memory that will last.
At the Aquarium, children and adults alike can see, feel, read about and follow animals as well as the zookeepers in close quarters. You can experience feeding time and see how fish and animals behave when they are in their proper elements. Since 1960, the Bergen Aquarium has been a must-visit institution for tourist and locals alike.
The aquarium is located on Nordnes, a short walk from the centre of Bergen and enjoys a fantastic parkland location with views from all sides to the fjord entrance to Bergen. You can get good food, too: Biologen Akvariet is a restaurant that serves great dishes made with quality ingredients. You'll then get the energy for the rest of your visit, and more. In the Aquarium shop, you'll find interesting gifts small and large as well as souvenirs and books.
The roof terrace has a great playground. Here, parents can enjoy the view of the fjord while children burn their energy on all the playground activities. The playground is a great venue for a little extra fun for young and adults alike.