Emmelie De Forest - 30 October 2020
Friday, 30 October 2020, First Hotel Grand in Odense opens its doors to a wonderful evening with singer, songwriter and winner of the Eurovision song contest, Emmelie de Forest.
Experience the stellar vocals and radiant charm live in concert in the hotel's historic Grand banquet hall.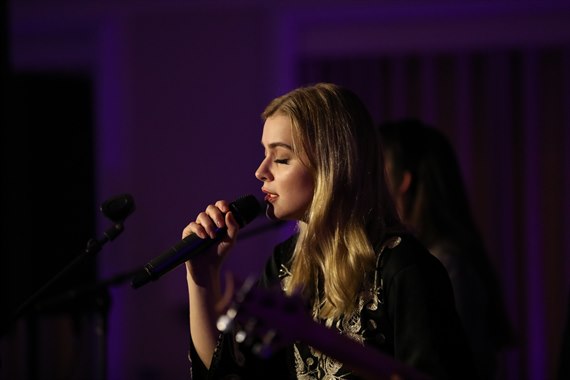 Emmelie, along with her band, will perform the songs from her two albums "Only Teardrops" and "History", in addition to new compositions not yet released, as well as selected cover tracks. The soundscape is a mix of both acoustic and electronic elements, electric guitar accompanied by ukulele, viola & omnichord.
ADD: 3 COURSE MENU
Restaurant Grand has put together a menu for you to enjoy before the concert.
Soupe poireaux et pommes de terre
Creamy potato and leek soup served with baked Burbot, pickled potatoes as well as truffle oil and crispy potato chips.
Sherwood, Stratum, Chardonnay, Waipara 2017
Boeuf à la mode
Roast fillet of beef alongside beef top round braised in red wine served with sautéed onions and carrots as well as pommes fondant and red wine sauce.
Château de Ricaud, Bordeaux Supérieur 2016
Tarte tatin
Caramelized apple pie made served with vanilla cream flavoured with Calvados.
Fusta Nova, Moscatel, Valencia 2017
MENU - DKK 345, -
WINE MENU - DKK 225, -
TICKETS
Emmelie De Forest - Live in concert
From: DKK 295,-