Easter sale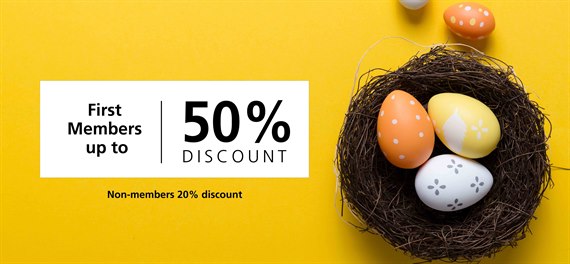 An Easter stay in a trendy metropolis or a charming town? Cultural experiences or adventures in nature? Norway, Sweden, Denmark or Iceland? The choice is yours. Our 54 unique hotels in Scandinavia are ready to welcome you.
We'll serve a delicious breakfast, tidy your room and make your bed so you can enjoy Easter your way!
BECOME FIRST MEMBER for free and get up to 50% discount on our Easter campaign. Non-members get 20% discount.
Already a First Member? Log in to "My Page" to find your booking code on up to 50% discount.
Ordering and stay period
THIS CAMPAIGN IS NO LONGER AVAILABLE.
But don´t worry, you'll get more opportunities to make good hotel deals! Stay tuned at Firsthotels.com or subscribe to our newsletter.
Booking period: 4 February – 10 February 2020
Stay period: 3 April - 13 April 2020
Other booking conditions
Breakfast and free WiFi included
Prepayment // non-refundable
The offer cannot be combined with other deals or discounts
Selected hotels and limited availability
P.S. To book the Easter offer with a 20% discount, search as usual after the hotel you want, and the Easter offer will appear in the booking process if it is available at the selected hotel.