Easter sale - up to 50% discount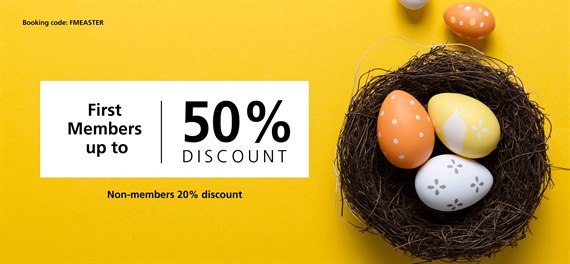 An Easter stay in a trendy metropolis or a charming town? Cultural experiences or adventures in nature? Norway, Sweden, Denmark or Iceland? The choice is yours. Our 54 unique hotels in Scandinavia are ready to welcome you.
We'll serve a delicious breakfast, tidy your room and make your beds so you can enjoy Easter your way!
Use the booking box below to retain the offer.
Ordering and stay period
THIS CAMPAIGN IS NO LONGER AVAILABLE.
But don´t worry, you'll get more opportunities to make good hotel deals! Stay tuned at Firsthotels.com.
Booking period: 4 February – 10 February 2020
Stay period: 3 April - 13 April 2020
Other booking conditions
Breakfast and free WiFi included
Prepayment // non-refundable
The offer cannot be combined with other deals or discounts
Selected hotels and limited availability
P.S. Some hotels are very popular and the rooms are quickly sold out.
This offer is exclusive for you as a First Member!
Order: Easter Sale - First Members save up to 50%